Engineering
simulations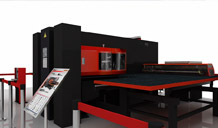 We animate the complete design engineering capabilities from product development to process design which eventually help our clients to have cost-effective manufacturing solutions.
Our domain experts employ design-to-cost methodologies; adhere to pertinent industry standards to deliver efficient engineering simulation on time.
We provide advanced simulation in engineering for laser and CNC machines and in designing sub-assemblies and large assemblies with a strong focus on precision engineering.